This was just too funny. I was reading this article about some redesign of the Freedom Tower in NY when I happened to scroll down and notice the following product ad: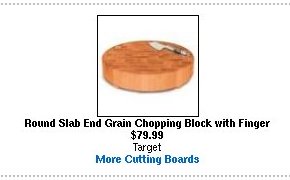 If you like, you can
view the firefox screen grab
I cut that from (~100k). When I clicked on the link, the actual product name was "Round Slab End Grain Chopping Block with Finger
Grooves
" (emphasis mine).
Web and programming technologies have enabled a huge degree of automated business interaction and processes. But eventually you figure out it doesn't hurt to have an actual human keep an eye on things from time to time, or you're going to end up with people trying to buy chopped fingers to defraud some fast food chain. 😉