Yep, still here. I know I haven't posted in a few days, but…what's that? More? Oh, I suppose it has been a few weeks, maybe even a month or two. I'm sorry, what? Longer than that?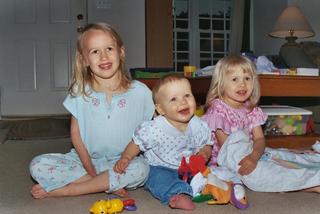 Oh, alright. Truth be told it's been a little over a year, but we've been a little busy. You can see one reason here: This picture was taken in May. Charis, the little cherub in the middle, made her entrance near the end of October, and has been a tremendous blessing ever since. Her two sisters adore her, though at times they need to be reminded how to play with her safely :).
Then sometime in the spring (don't remember when exactly, off the top of my head) I went over to Croatia to pick up this little guy and bring him back here for medical assistance.
And now?
Well, we're now in the process of attempting to adopt not one but two babies from Ethiopia ("babies" meaning under 3). We're near the end of our homestudy, and anticipate being able to travel sometime in the first half of next year. God has been and continues to be faithful through the process; right now the biggest thing we're trusting him with is the financial side. It costs an awful lot of money to adopt internationally.
Anyway, I'm sure I'll post more on that, and many other things, as time goes on. For now I'll content myself knowing that I've finally gotten my lazy bum back on here.